Talk about taking a step back to my childhood! I was thrilled to have the opportunity to review a copy of the new Are You Afraid of the Dark? DVD. As a fan of the original The Midnight Society back in the 90s, my millennial self was ready to take a walk down memory lane while also taking a peek at the future. So now, submitted for the approval of The Midnight Society. . .
Are You Afraid of the Dark? DVD Review
As mom to an 8 year old boy, I was pumped to watch something that had a bit of an older elementary feel with him. But, knowing that my son has a lot of anxiety, I decided to take a look at the DVD by myself first to write this review and then decide if we would watch it together. There is plenty to love about this DVD, along with a few warnings for parents too.
The new episodes feature Rachel, a young girl who just moved to a new town and is settling in to a new school. Like most kids, she has some fear about this adjustment, but unlike most kids, she's also having nightmares centered around a carnival of doom. Unable to shake the haunting nightmares, she finds herself doodling pictures throughout the day. . .and they catch the eye of one of her classmates. He shares the drawings with a few friends and before you know it, Rachel is in front of the secret The Midnight Society sharing a scary story that she's crafted around this nightmare. But when a fellow student goes missing the day after she tells her story and the Carnival of Doom comes to their small town, it leaves some questions for The Midnight Society to answer. Rachel's dream and story were just that. . .right?
So how scary is Are You Afraid of the Dark? I'm a bit of a scaredy cat myself, and I will say that the opening scenes of Rachel's dream had me a little spooked. Then I thought about my 8 year old watching it and know that he would be scared. . .even though he may not want to say it because, you know, he's 8 so he's a tough guy now. Don't get me wrong, this is no The Shining or anything like that, but it is something that can come across as very real and believable to kids, so if you have little ones that scare easily, you may want to keep that in mind. My son is BEGGING me to watch this, so I think we will. But we're going to do it early in the day with all the lights on!
Thank you to Nickelodeon, Paramount Home Entertainment, and Team Click for providing me with a copy of this DVD to review!
Looking for more Nickelodeon fun? Check out other new DVDs including Blaze, Shimmer and Shine, and Paw Patrol!
Are You Afraid of the Dark? Craft and Recipe Ideas
Can't get enough of The Midnight Society? Want to create your own campfire fun at home? Check out this craft from my friend Tessa at
Mama's Geeky
and the recipe from
Geeks Who Eat
! Click the picture below to see more!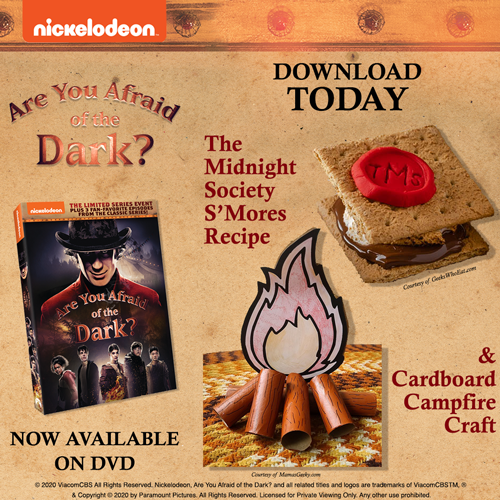 About Are You Afraid of the Dark? DVD Release (From Nickelodeon and Paramount Home Entertainment)
Re-imagined for a new generation, Nickelodeon's all-new version of '90's kids' cult classic Are You Afraid of the Dark? arrive on DVD Tuesday, August 11, 2020 from Paramount Home Entertainment and Nickelodeon Home Entertainment. The three-part limited series follows members of an entirely new Midnight Society, who tell a terrifying tale of the Carnival of Doom and its evil ringmaster Mr. Top Hat, only to witness the shocking story come frightfully to life and prepare for an adventure beyond their wildest nightmares.
A must-own for fans of the classic series, as well as those new to the franchise, the Are You Afraid o the Dark? DVD also includes three fan-favorite episodes from the original series and will be available for the suggested retail price of $13.99.
The new members of the Midnight Society are Rachel, played by Lyliana Wray (Top Gun: Maverick, Black-ish); Gavin, played by Sam Ashe Arnold (Best.Worst.Weekend.Ever.); Akiko, played by Miya Cech (Rim of the World, Always Be My Maybe); Graham, played by Jeremy Taylor (IT: Chapter Two, Goosebumps 2: Haunted Halloween); and Louise, played by Tamara Smart (Artemis Fowl, The Worst Witch). The Carnival of Doom's ringmaster, Mr. Tophat, is played by Rafael Casal (Blindspotting).
Are You Afraid of the Dark? Episodes:
Part 1: Submitted For Approval
Part 2: Opening Night
Part 3: Destroy All The Tophats
Special Features (US only):
Original Series Season 1, Episode 2: The Tale of Laughing in the Dark
Original Series Season 4, Episode 8: The Tale of the Ghastly Grinner
Original Series Season 5, Episode 1: The Tale of the Dead Man's Float