The War With Grandpa - Image from 101 Studios
Just in time for the holidays, you can bring home The War With Grandpa! This delightful family comedy stars Robert DeNiro, Jane Seymour, Cheech Marin, Rob Riggle, Uma Thurman, and more as we watch a grandfather and grandson go to "war!" The pranks and laughs make this such a fun choice for families to enjoy together. I was able to participate in the virtual press junkets with the stars and producers as well as review the movie! Check out my coverage in the links below:
Want to win a copy of The War With Grandpa??


The War With Grandpa Marble Cake Pops!
Ring in the holiday season with these festive Marble Cake Pops! THE WAR WITH GRANDPA is available now on Digital and on Blu-ray and DVD December 22nd!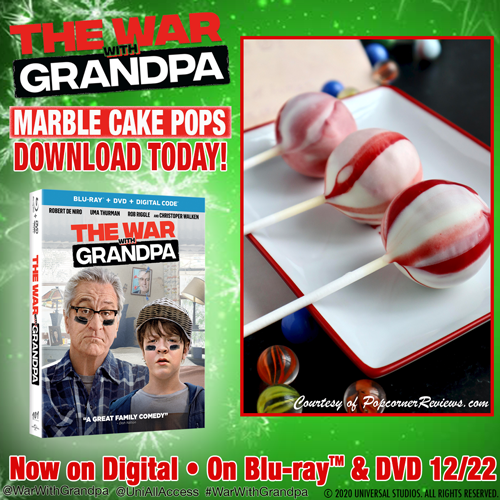 The War With Grandpa Digital and Blu-ray Release
This film would make a great choice to bring home for the holidays and enjoy with your family from the comfort of your living room. Here are all the details on the release!
Ring in the holiday season and get ready to laugh-out-loud with an all-out prank battle the whole family can enjoy, in the hilarious comedy, THE WAR WITH GRANDPA, now available to own for the first time on Digital on December 15, 2020 and on Blu-ray™, DVD and On Demand on December 22, 2020 from Universal Pictures Home Entertainment. Based on Robert Kimmel Smith's multi-award-winning beloved children's book of the same name, the film follows a series of escalating shenanigans that ensue when a grandfather (Academy Award® winner Robert De Niro, The Irishman, Meet the Parents franchise) moves in with his daughter, forcing his grandson (Oakes Fegley, The Goldfinch, This Is Where I Leave You) to begrudgingly give up his bedroom. Packed with heart and hysterical hijinks from start to finish, THE WAR WITH GRANDPA is the perfect "family-friendly comedy" (Pete Hammond, Deadline) everyone can enjoy during the holiday and beyond.

Sixth-grader Peter (Fegley) is pretty much your average kid—he likes gaming, hanging with his friends and his beloved pair of Air Jordans. But when his recently widowed grandfather Ed (De Niro) moves in with Peter's family, the boy is forced to give up his most prized possession of all, his bedroom. Unwilling to let such an injustice stand, Peter devises a series of increasingly elaborate pranks to drive out the interloper, but Grandpa Ed won't go without a fight. Soon, the friendly combatants are engaged in an all-out war with side-splitting consequences.

Alongside De Niro and Fegley is a top-notch cast including Academy Award®nominee Uma Thurman (Kill Bill series, Pulp Fiction), Rob Riggle (21 Jump Street, "Modern Family"), Cheech Marin (Cars series, Coco), Golden Globe®winner Jane Seymour (Wedding Crashers, "Jane the Virgin"), Laura Marano (Lady Bird, "Austin & Ally") and Academy Award® winner Christopher Walken (Hairspray, Catch Me If You Can) that bring even more laughs throughout the mischievously funny and charming film. From director Tim Hill (The SpongeBob Movie: Sponge on the Run, "SpongeBob SquarePants") with a script by Tom J. Astle (Get Smart, Failure to Launch) and Matt Ember (Get Smart, Epic), THE WAR WITH GRANDPA is sure to entertains audiences of all ages.

With the purchase of THE WAR WITH GRANDPA on disc or digital, fans are eligible to earn points towards special rewards via the Universal All-Access Rewards program. Members can redeem their points for digital movies, signed collectables, box sets, win exclusive prizes and more! For FREE registration and details please visit www.MyUniversalRewards.com.