Rubble on the Double - Image from Nickelodeon and Paramount Home Entertainment
Rubble on the double!
If only you knew how often that phrase is used in my house! My five-year old loves the pups of PAW Patrol and always enjoys the chance to watch more PAW Patrol episodes. We are excited to announce the latest PAW Patrol DVD release from Nickelodeon - Rubble on the Double - starring the construction pup himself, Rubble!
PAW Patrol: Rubble on the Double DVD Review
Rubble on the Double - Image from Lights! Camera! Mom!
Thanks to my friends at Nickelodeon, Paramount Home Entertainment, and Team Click for providing me with a copy to review and the opportunity to giveaway a copy to a reader as well!
I think his smile in this picture says it all, don't you? My five-year old loves watching PAW Patrol and Rubble is one of his favorites. The construction themed episodes are such fun for young viewers. While we enjoyed all of the episodes (I mean, who doesn't love the three little pigs with a PAW Patrol twist?), our favorite episode was the very first one where we learned how Rubble became part of the PAW Patrol. As always, you can count on the pups of Adventure Bay to celebrate teamwork, friendship, and saving the day!
PAW Patrol: Rubble on the Double At Home Fun
Looking for something fun to add to your PAW Patrol watch party? Why not try Rubble's Snack Mix from my friend Robyn over at
Mom the Magnificent
! Robyn and I had the pleasure of being roomies at
The Geekly Retreat
back in 2019 and she is super creative and comes up with such fun ideas. This snack mix is something easy for even the busiest family to put together. It would even be a great idea for a PAW Patrol themed birthday party! Click the picture below to check out the recipe!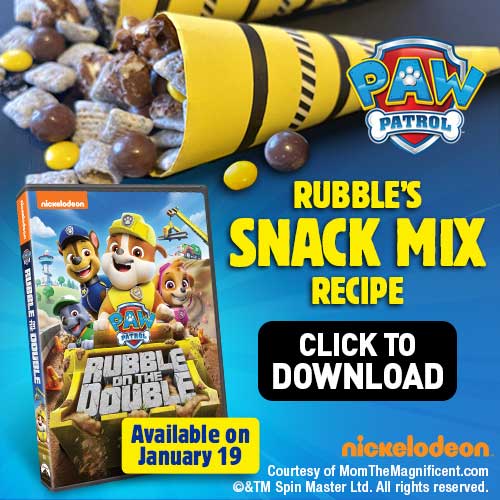 And if that wasn't enough, my friend Taty over at
Cool Moms Cool Tips
came up with this fun Rubble craft. My boys love dressing as their favorite characters and this activity is a super easy activity to do with your little ones. Click the image below to download!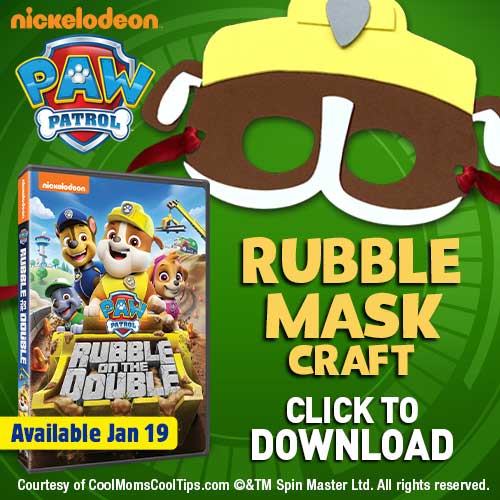 PAW Patrol: Rubble on the Double Giveaway
Giveaway is now closed! Thanks for entering! Want to win your own copy of PAW Patrol: Rubble on the Double? You can enter over on Twitter. Simply find the pinned post and comment with you favorite PAW Patrol GIF to be entered. Want a bonus entry? All you have to do is retweet to be entered again! You must be following me @lightscameramom to be eligible as well as being 18 years or older and have a U.S. mailing address. Entries close on Friday, 1/15 at 5PM EST and a winner will be notified by DM. Good luck!
About Rubble on the Double (from Nickelodeon)
Get ready to raise the "woof" with Rubble and the rest of the pups in the all-new DVD release, PAW Patrol: Rubble on the Double. Available on January 19, 2021, and featuring nine construction-themed episodes from Nickelodeon's hit preschool series

PAW Patrol

(produced by Spin Master Entertainment), the DVD will shine a spotlight on fan-favorite pup Rubble and will even include a flashback of how he became a member of the PAW Patrol. Fans can join the pups for adventures filled with tons of digging, building and fixing, as the PAW Patrol work together to save animals, superheroes, a rock-and-roll show and more.

PAW Patrol: Rubble on the Double

will be available on DVD from Paramount Home Entertainment and Nickelodeon Home Entertainment on January 19, 2021, for the suggested retail price of $10.99.

PAW Patrol: Rubble on the Double episodes:
Pups Get a Rubble
Pups Save the Beavers
Pups Save Three Little Pigs
Pups Save the Hippos
Pups Save a Cow
Pups Find a Genie
Pups and the Beanstalk
Pups Save Apollo
Pups Save the Woof and Roll Show

PAW Patrol: Rubble on the Double synopsis:
Get ready to raise the "woof" with Rubble and the rest of the PAW Patrol in these nine construction missions! Whether they're rescuing animals, superheroes, or even a rock-and-roll show, the pups can always build a plan to save the day! Can you dig it?

PAW Patrol: Rubble on the Double fast facts:
Street Date: January 19, 2021
Catalog: 59214058000 (US)
Running Time: 1 hr 49 min
Audio: Dolby Digital English 5.1, French Stereo, Spanish Stereo
US Rating: Not Rated
US M.S.R.P.: $10.99