American Underdog - Image from Lionsgate Movies
Every once in a while, there are great stories from great athletes that just happen to be great people. I vividly remember Kurt Warner's rookie season with the Rams - the "greatest show on turf" dancing all the way to the Super Bowl. It all just seems easy for professional athletes. But when you look behind the sidelines, you learn there is much than you ever knew. American Underdog takes a look at the path Kurt Warner took that eventually led him to a Hall-of-Fame career in the NFL. My boys love football so we headed the theaters over the holiday break and decided to check this one out. What's the verdict? Is American Underdog OK for kids?
American Underdog Movie Review
American Underdog - Image from Lionsgate Movies
American Underdog follows a young Kurt Warner as a 5th year senior at Northern Iowa. He always had big dreams of playing in the NFL like so many kids, but riding the bench for most of his career at a Division I-AA college isn't likely to get him noticed by the NFL scouts. When draft day passes, Warner begins to wonder what comes next for him. It's during that year that he meets Brenda - a single mom with two kids - and their love story begins.
Warner's story is one of overcoming the odds. So many times over the years, the world throws obstacles that seem impossible to overcome as he struggles to survive financially and continue to pursue his dreams. Warner's story is not unfamiliar to NFL fans, but it really is beautifully told and an inspirational tale. Admittedly, the first 30 minutes or so is a bit slow, but it quickly picks up steam
The movie stars Zachary Levi, Anna Paquin, Bruce McGill, and Dennis Quaid. Paquin especially shines as Brenda Warner and Quaid always delights - especially as Rams head coach Dick Vermeil.
Is American Underdog OK for Kids?
American Underdog - Image from Lionsgate Movies
American Underdog is rated PG with next to nothing that would raise eyebrows from parents watching with young viewers. Perhaps the most "risqué" moments of the scene are adults drinking in a bar and some kissing on the sofa. Where American Underdog may be a little much for kids is following the content. The movie tackles divorce, single parenting, death, disabilities, poverty, etc. There are times I'm sure my kids weren't quite following exactly what was happening, but anytime football came on the screen, their faces lit up!
If you have kids who enjoy watching football, I think they'll enjoy watching this film, but they can probably wait to see it when it comes to a TV near you as it is a little slow in places for short attention spans.
American Underdog Origami Football Craft
Want to learn how to make your own origami football? Check out this FREE craft from our friends at American Underdog!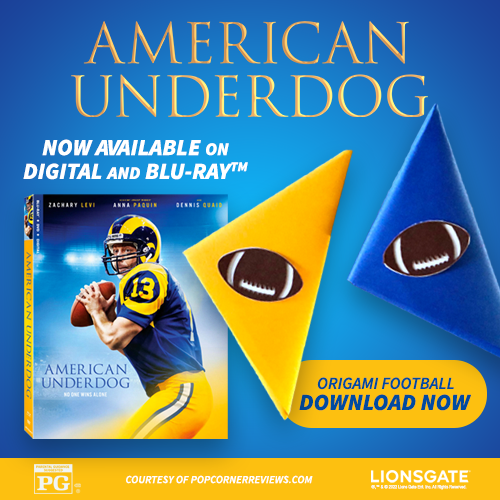 About American Underdog (From Lionsgate)
American Underdog tells the inspirational true story of Kurt Warner (Zachary Levi), who went from a stockboy at a grocery store to a two-time NFL MVP, Super Bowl champion, and Hall of Fame quarterback. The film centers on Warner's unique story and years of challenges and setbacks that could have derailed his aspirations to become an NFL player – but just when his dreams seemed all but out of reach, it is only with the support of his wife, Brenda (Anna Paquin) and the encouragement of his family, coaches, and teammates that Warner perseveres and finds the strength to show the world the champion that he already is. American Underdog is an uplifting story that demonstrates that anything is possible when you have faith, family and determination.