Clifford The Big Red Dog - Image from Paramount Pictures
If you're a busy mom like me, shopping for Valentine's Day cards for your kids classroom is at the top of your to-do list the beginning part of February. If you can't find what you like, or want something different than what you can find at your local store, check out these Valentine's Day cards inspired by some family favorites!
The Cuphead Show Valentines
Coming February 18, 2022 to Netflix, check out these Valentines from The Cuphead Show!
From Netflix - Based on the award-winning video game that smashed onto the scene with a gorgeous retro animation style, THE CUPHEAD SHOW! is a character-driven comedy series following the unique misadventures of loveable, impulsive scamp Cuphead and his cautious but easily swayed brother Mugman. As the two scour their surreal homeworld of the Inkwell Isles in search of fun and adventure, they always have each other's back. Unless there's only one cookie left, in which case it's every cup for himself. THE CUPHEAD SHOW! combines nostalgic delights, side-splitting gags, and a healthy dose of the heebie jeebies—especially when a ridiculously weird nemesis, The Devil himself, arrives on the scene to toy with our heroes. For King Features, C.J. Kettler will serve as the Executive Producer and

Cuphead

creators Chad and Jared Moldenhauer will serve as Executive Producers for Studio MDHR. The series will be produced by Netflix Animation and is executive produced by Emmy and Annie Award-winning producer, Dave Wasson (

Mickey Mouse Shorts

) and co-executive produced by Cosmo Segurson (

Rocko's Modern Life: Static Cling

).
Clifford The Big Red Dog Valentines
You can bring home everyone's favorite Big Red Dog on digital, DVD, or Blu-ray, which makes the paw-fect Valentine gift for your kids this year! In addition, you can download these Valentine's Day cards inspired by Clifford.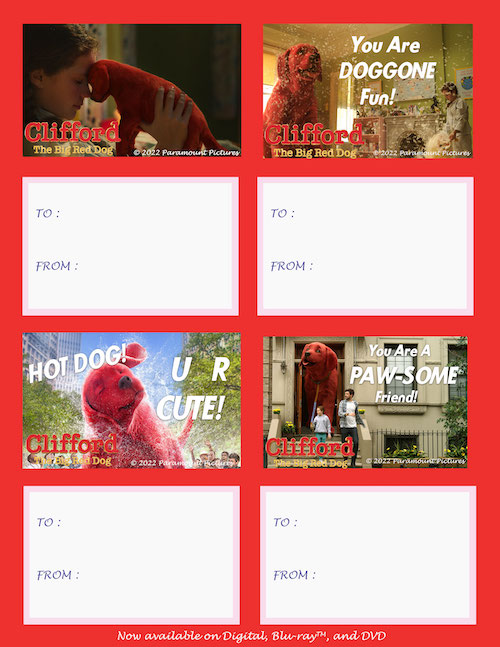 From Paramount Pictures - When Emily discovers her little red puppy named Clifford has grown ten feet overnight, she turns to her eccentric Uncle Casey for help. But when a mad scientist tries to capture the larger-than-life playful pup, it takes the entire neighborhood to hide Clifford as they race across the city. Get ready for the incredible, laugh-out-loud comedy adventure that is BIG fun for the entire family!